iService includes a form building component for creating custom forms to support your workflow. In addition to your own custom forms, there are several built-in forms that you can configure for sending agent emails, submitting credit memo requests, and generating quotes. Links to these customized forms are shown in the custom forms menu after they are configured.
After you configure the built-in forms, a link is automatically added to this custom forms menu. To add your own custom forms to the menu, you must create a separate form that contains the URLs to your forms. This custom menu form is then included in the left navigation menu after you select it in the Websites tab. Read more about adding your own links to the Custom Forms menu.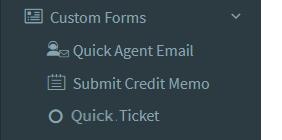 The Custom Forms menu
In the example here, the tenant has two built-in forms and a custom form configured. The quick agent email and submit a credit memo links were automatically added when those built-in forms were configured. The quick ticket link was added to the menu manually by creating a separate form with a link to that custom form. You can select icons for your custom forms menu from the iService style guide at http://styleguide.iservice.info/pages/icons.html. Although the process for including these links is simple, we suggest that you contact your iService account manager for guidance when implementing your own forms.