This user guide is intended for users of the iService web interface, utilities, and reports. Most of the set up and configuration of an iService tenant is done through this web interface. See the iService Technical Guide for details on installing, upgrading, and maintaining an iService installation.
Feature Overview
iService provides a number of ways to interact with your customers, as depicted in the diagram below.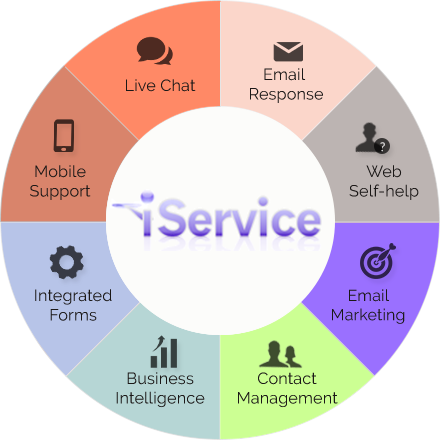 iService Features
Email response - iService includes a skills-based routing process for helping you answer customer questions. The most common questions come from customer email, but other questions can be submitted through iService forms or the agent ticket interface.
Web self-help - iService has an integrated knowledge base that can help your customers find answers to their questions.
Email marketing - You can use the integrated mass mailing feature (iCentives®) to send messages to iService contacts, or add contacts to multi-message campaigns.
Contact management - You can extend your view of contacts with custom properties, such as account numbers or preferences. Every interaction with your customer is archived with their full interaction history.
Business intelligence - iService includes over 50 reports that can be delivered to your inbox, run on demand, or integrated into other analytical tools.
Integrated forms - iService forms provide a complete framework for building interaction workflows and custom user experiences. In fact, the entire iService web interface is built using iService forms. Whether it's a simple contact us form for a detailed approval workflow, the iService interface can be adapted to meet the needs of your enterprise.
Mobile support - All of the iService interfaces are built as mobile first apps, including the agent website and customer portals.
Live chat - iService chat uses the same skills-based routing configuration as email response. You can chat with customers while browsing the rest of the iService interface.