To add a new contact, click on the New Contact button.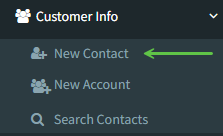 The New Contact button
The new contact page will load as shown below.
1 – Every tenant has the same customer information section with fields for name, phone number, email address, etc.
2 – If your tenant has multiple segments, the new contact will be given the same segment membership as your user.
3 – If your tenant has custom contact properties they will be shown below the customer information section. You will only see properties for segments that you have segment access to, or properties that are configured as shared.