If it is desired to have Active Directory used as the authentication method, you will need to configure IIS to support NTML.
First, you will need to verify that the default IIS authentication methods are in place for your iService website. In the IIS Manager, select the relevant iService website in the left column, then double-click on the Authentication icon in the main window as shown below.
The currently enabled authentication methods will be listed. The methods shown match below.
Next, we need to specifically set NTLM-only authentication for the Agent.aspx page. To do this, right click on the relevant iService website (shown as QA2008 below) and select "Switch to Content View"
This will list the file contents of the website. Highlight the Agent.aspx file, and then click on the "Switch to Features View" as shown below.
The Agent.aspx page will now be listed in the left panel under the iService website hierarchy. While it remains highlighted, again double click on the Authentication icon in the main panel as shown below.
In the authentication method list, disable "Anonymous Authentication" for this Agent.aspx file as shown below.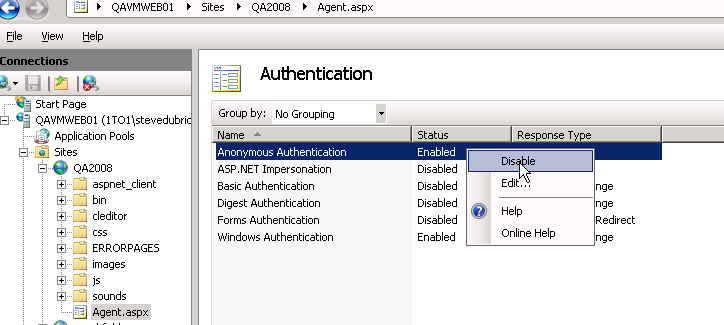 Now when visiting an iService page, you will have a new "AGENT" link on the login panel. If the iService agent has been linked to an AD login in the Admin panel, they will automatically be logged in when clicking this link or directly going to http://yourdomain.com/Agent.aspx.