The command "Public Topics" is used to present a drop down menu of the Topic Tree for the iService website in which the form is located. It is actually a parameter used withinthe $INPUT command.
$Input –topics -id'uniquename'$ – This will display a drop down menu where the user can pick a topic. An example is shown below.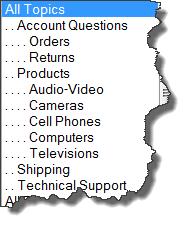 The topics displayed are dependent upon the website on which the form is displayed, and the access rights of the user viewing the page. The topics displayed with this command are the same as the user would see on the FindAnswers.aspx page (the standard iService Find Answers tab) on the same website.