To manually create a new form , click the New Form button as shown below.

Then, enter a short name for your form in the Form Name box.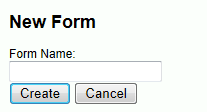 After you create the form, you have the option to enter a long description and and save the changes to your form. The form consists of a Form Body, and Form Actions that are triggered when the form is submitted. The form body is an HTML page that uses the iService scripting language to interact with the iService database. The form actions are common functions within iService such as finding or creating contacts, submitting ask a question forms, updating email list subscriptions, etc.
For more details on form commands in the iService scripting language, see the Form commands section.
For more details on form actions, see the Form Actions section.